Do you use Google Seller Ratings in your Pay Per Click Ads? The Requirements Have Just Changed!
---
What is the Seller Rating?
The seller rating demonstrates that other people trust your business and have had good dealings with you before. In essence it's a small star rating that displays underneath the URL on your Google Adwords, Display, and Google Shopping ads.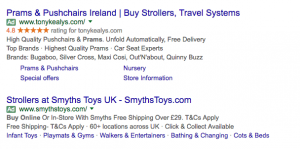 The top ad has a seller rating, the bottom ad doesn't. Which one would you click?
Why Does it Matter?
Google have stated that having seller ratings on your advertisements benefits both searchers and businesses and research shows that it significantly increases CTR. The effects of this are different for different ads, but in every case a higher click-through rate means a higher quality score and a lower cost per click. Which is good news in any PPC marketer's language. The only real effort involved is gathering feedback from customers — using tools such as Feedier — and providing great service (which you should be doing already!).
Why is it in the News, what has changed?
Google have increased the threshold of reviews that businesses need for the seller rating to display from 30 to 150 per year. A big hike no doubt, but this is ultimately better for sellers who offer excellent service to their customers.
Having a higher standard to meet means that sellers who excel at customer service have a greater chance at standing out from the competition. The best companies gather feedback from all customers all the time, so meeting a certain benchmark shouldn't be an issue if your procedures are in place.
Just as having seller ratings increases your CTR – not having them when your competitors do has a negative effect on your CTR because competitors' ads will stand out in comparison to your own. So if you're not gathering reviews from an accredited Google partner, and you advertise on Google Adwords, the Display Network or Google Shopping, then you have work to do.
How do I Get Seller Ratings on my Ads?
First of all the searcher has to be searching from the U.S., the UK, France, Germany or the Netherlands to see the Ratings on the Google SERPs. Google seller rating has not been implemented in other countries yet.
Next, you'll need to be signed up to one of the independent review providers that are listed at the end of this article. There are a lot of third party websites out there, but unless you're signed up to one that is licensed by Google, your ratings will not display on your PPC ads.
Then, to get a seller star rating next to your PPC ads you'll now need at least 150 seller reviews in the last 12 months. It's not enough to have and display reviews – constantly generating fresh and recent reviews is what has the highest positive impact on your conversion rate.
You'll also need to have an average rating of 3.5 stars or higher – If you've been getting lower than a 3.5 rating on average then Google will not display your seller reviews.
How can I check if mine is working?
To see your ratings and check if they're being tracked properly by Google use the following URL
https://www.google.com/shopping/seller?q=YOURWEBSITE
Replace YOURWEBSITE with your domain name e.g.
https://www.google.com/shopping/seller?q=Tonykealys.co.uk
You'll be brought to a page with your reviews on display like the one from the screenshot below.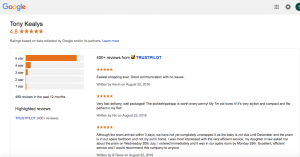 Google's repository of reviews for TonyKealys.co.uk
You can also check how your ad looks by typing https://adwords.google.com/apt/AdPreview into a private browsing window.
What to do next?
If you're not doing so already, gather reviews from one of the trusted providers listed below.
Make getting reviews a priority
The fact that Google has raised the bar for companies in this area is a clear indication that reviews matter. Earning customer trust is paramount and the more ways to do it quickly the better. Having a steady stream of positive feedback from different customers over the last 12 months demonstrates to all that your company is trustworthy.
If you're below the threshold of 150 reviews and you advertise on Adwords or Google shopping then implementing a process for gathering feedback regularly should be a priority. Increasing your click through rate increases traffic which increases transactions. It also gives you a higher quality score which lowers your cost per click.
If you have the prerequisite 150 reviews but your seller ratings are not showing, you may need to wait a few weeks before Google index all of them – your seller rating will not appear until then.
List of licensed review providers
If you haven't yet implemented a customer review platform – the licensed review providers are listed below. For seller ratings to show up on your Google ads you must use one of the providers that are Google approved. Fortunately there are many to choose from and Google will probably add more in future.
For more information about advertising on Google or if you want help implementing seller ratings on your ads contact sean@studioforty9.com or call +353 (0) 21 239 2349