Increasing Your Customer Engagement – Webinar
---
Thank you to everyone who attended the first ever StudioForty9 hosted webinar. We have been on several webinars over the last few months as guests but it was a nice change to organise and run our own.
Thank you to our presenters and partners in Styla and Shopbox for presenting too, the feedback from the attendees was very positive.
The theme of the Webinar was 'Moving On from Covid-19' highlighting several ways to increase your Customer Engagement.
This was the agenda: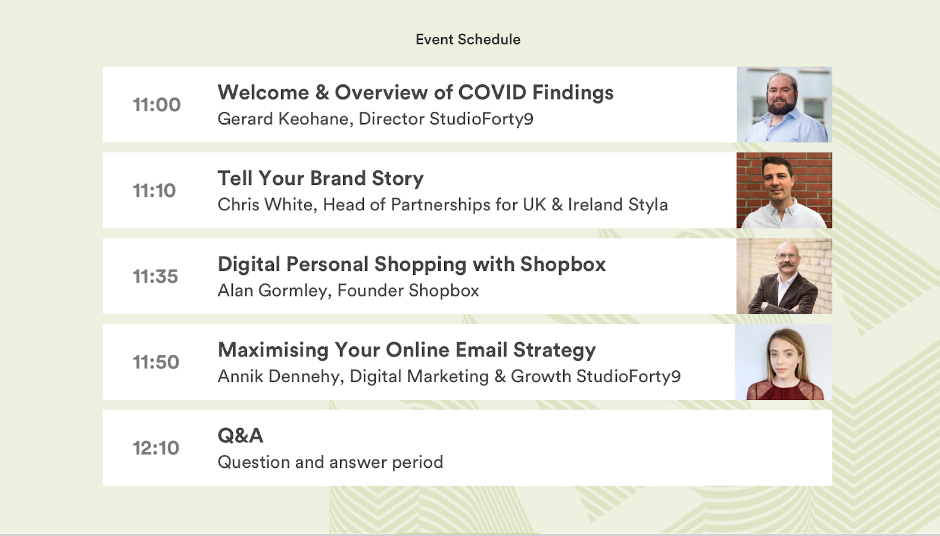 Links to the slides are available here and also a recording of the Webinar.
COVID-19 Online Retail Scheme
We would like to also highlight that another application round is about to open for the Enterprise Ireland COVID-19 Online Retail Fund.
Summary:
Applications will open on the 31st of August with a September 28th close.
Support of up to 80% of the cost of your Ecommerce project to a maximum of €40,000.
Our advice would be to reach out to Enterprise Ireland and read the full details via the link below.
If you do need any help with your grant application please reach out to us info@studioforty9.com.