Google Penalising Sites With Mobile Popups From Today Onward
---
The latest initiative by the big G to encourage site owners to adopt a mobile-first approach
If you haven't heard already,
Google's mobile interstitial penalty takes effect as of today (10th of January). If you don't already know, popups that obstruct the page's main content when a user lands on the page or when the user is browsing the page may cause a drop in search engine rankings.
The exceptions to this are (in Google's own words)
"1) Popups that appear to be in response to a legal obligation, such as for cookie usage or for age verification.
2) Login dialogs on sites where content is not publicly indexable. For example, this would include private content such as email or unindexable content that is behind a paywall.
3) Banners that use a reasonable amount of screen space and are easily dismissible. For example, the app install banners provided by Safari and Chrome are examples of banners that use a reasonable amount of screen space (Google haven't gotten any more specific than "reasonable" but the general line of thinking with SEO's is about 15% of total screen size or smaller)."
Other things to take note of are:
This applies to mobile browsing only, desktop is unaffected.
It only counts on landing pages, so if a user clicks on a Google result and that page has a popup – that page will most likely be penalised. But if a user clicks on a Google result and lands on your website, then clicks to another page on your website with a popup, no problem.
In other words,
1) a user goes from Google search results to a page on your site with a popup = bad.
2) a user goes from Google search results to a page on your site, to another page on your site with a popup = fine.
So there isn't a need to get rid of all popups on mobile, just the ones on pages that are typically landing pages.
If you want to check it out:
1) Find the pages on your site with popups.
2) Go to Google analytics >> Behaviour >> Landing pages
If one of the pages from #1 is in the top results, or if one of your dedicated landing pages has an interstitial popup then –
3) Remove the popup and find another way to integrate its function on your webpage.
There's also an unofficial tool that may be worth trying – although I can't vouch for it's accuracy it's the only thing out there I could find. https://interstitialpenaltycheck.com/.
The tool works under the principle that any screen overlay that takes up more than 15% of the screen size will be penalized.
The other less impactful but telling change that accompanies the penalty is that sites will no longer have a mobile friendly message next to their website in search results.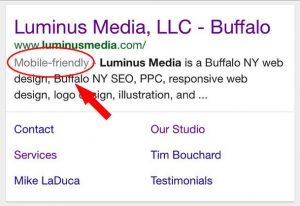 The mobile friendly label will no longer be displayed for any site
Google have removed this because 85% of all indexed sites meet the criteria for mobile-friendly. It's no longer a differentiating factor so they have removed the label for everyone.
The moral of the story is that having an excellent mobile experience is becoming less of an option and more of a necessity for anyone conducting business online. The Accelerated Mobile Pages (AMP) framework is gaining traction as it develops, and Google are currently testing the new Mobile-first index. It should be rolled out soon – so you can safely expect more and bigger mobile-focused changes in the near future.
You can read Google's original blog post about the popup penalty here, and about the mobile-first index here.