#HackforGood with the Down Syndrome Centre Cork
---
Last Friday May 12th, StudioForty9 had the opportunity to help out with #HackforGood taking place in the Republic of Work, Cork. #HackforGood was a 24hr hackathon aimed at helping build websites for a number of local charities. The event was also organised by the Cork Foundation.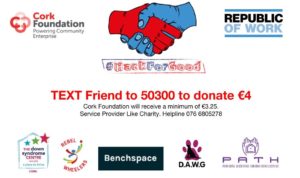 We would like to thank our team members, DC, Frank, everyone at the Republic of Work and all of the volunteers for their amazing work.  We are very proud to have been invited and to have been of some help to these worthy causes. The StudioForty9 team were fortunate enough to help the Down Syndrome Centre Cork.
The Centre was founded in early 2017 in response to a recognised need in the Cork region for the provision of support and facilities for families and carers of young children with Down Syndrome. Founded and run by parents of children with Down Syndrome, the purpose of the centre is to provide three core functions;
1. Diagnosis Support – A key focus of the group is to provide essential support at this early stage to expectant and new parents.
2. Early Intervention Therapies – Much of the funds raised by the Down Syndrome Centre Cork is used to pay for essential early intervention therapies, helping families to ensure their children reach their full potential.
3. Building Lasting Friendships – Having someone to talk to that understands firsthand the unique challenges you face, sharing experiences and giving or receiving advice from those a bit further down the road in the journey.
We are very proud of the final result. It's amazing what can be achieved with some drive, passion and impetus in only 24hrs. The donation page is now also live so there's nothing stopping you from contributing to this worthy cause!
If you want to contact the Down Syndrome Centre Cork please follow this link.